There is so much color and pattern in design this year! This can be a blessing and a curse. Look before you leap. The images provided by the industry should be regarded in the same way one reads Vogue – you aren't meant to reproduce the entire image.
Take snippets of color and pattern that you can live with — at least for a while. Ensure you have some neutrals for breathing room. As designers, we can get away with a lot more drama in hospitality settings where clients will only spend an hour or two. Your home must be restful enough for extended time periods.
One thing that makes this year's colors a bit more classic is that they are largely nature's colors — greens and blues (navy is especially classic), with little pops of yellow or salmon to liven things up. You can always use concentrated color for small objects like throw pillows or accessories. However, for wallpaper, window treatments, or large furniture items, be cautious about the intensity of the color and the business of the pattern.
Ballard Designs has done a nice job this year of showing us what's possible with pattern and color coordination. It's refreshing to see color back in action after so many years of grey and, well, more grey. Check out their custom fabric, sold by the yard, to apply to hundreds of customizable items.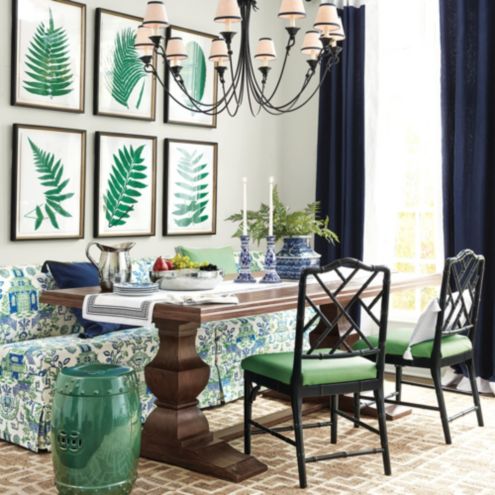 In the Houzz article below, the author states that "pattern and vibrancy are two trends that don't appear to be going away anytime soon." This is an opportunity to explore and integrate colors and patterns that you love in small doses (called the law of Chromatic Distribution).
Law Of Chromatic Distribution. A rule governing the distribution of color intensity or brightness. The most neutralized colors are used in the largest areas, and the smaller the size or area, the brighter or more intense the chroma proportionately becomes. (google search)
Pattern and color are two of the true joys of interior design. They are meant to be used and enjoyed. Just be mindful that what looks fabulous in a tiny image in a magazine will look and feel very different in real time and space in your home.